Haber 7
Pang Bown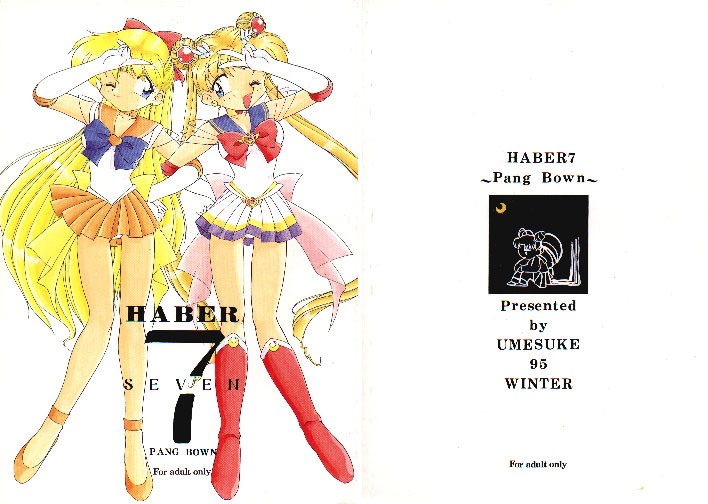 Circle: Umesuke (Contains work by JSairo)
Publication Date: December 30, 1995
Rarity: ***
Series: Sailor Moon
Couplings:
Minako / Usagi / Boy
Boy / Usagi / Minako / Rei / Ami
Page Count: 54
Cover: Glossy (With Prismatic Lettering)
Art Quality: Good - Great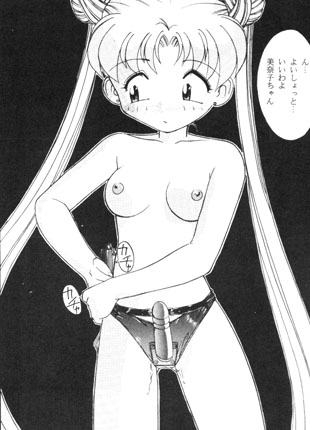 Description:
Usagi is yelling at a boy (could be her brother) about something. He has his hands bound behind his back and he's definitely upset about it. But not for long, Usagi grinds her soaked croch against his face and nose while Minako pulls down his pants and starts to suck him off. Minako gets up and grabs his member and directs it into her while she's in a crouched position over him. While he's pounding into Minako, Usagi moves up to Minako and gives her a passionate kiss [Hot!]. Usagi is now simultaneously getting oral from the boy and together Usagi and Minako cum. Minako pulls herself off and bends over to lick Usagi's juices off the boys face, meanwhile Usagi cleans him off down below and pokes a little at his anus. Minako turns around and straddles his face to get some oral while Usagi works down below but while his view is blocked Usagi takes out some leather straps that she puts tightly on his penis to prevent him from cumming. Minako flips him over and takes out a little tube of lube and starts to lube up his ass hole while Usagi puts on a strap on [Picture at left, any doujinshi that has Usagi put on a strap on is A+ material in my book ;)]. Usagi starts to screw the boy in the butt while jerking him off, Minako in turn ducks below the two of them and guides the boy into her pussy. The boy cums but he is unable to so the three of them stop and unstrap the leather from the boy, within seconds Usagi and Minako are rewarded with a huge facial, they make a cute little note and head away afterwards. An awesome story if I do say so myself, and done by my favorite artist, J. Sairo.
There are a few okay pinups between that story and the next, the second story in this doujinshi also appears in another one of my doujinshi by J. Sairo. Rei, Usagi, Minako, and Ami are at the beach together, but Ami has lost track of the rest of the group. She goes off to search for them and looks in the ladies room and there they are, holding a boy down on the ground with his legs spread. Ami is of course in complete shock. She shouts out loud and lunges for the boys crotch to cover it while everyone laughs that her hands are on his crotch. Ami starts panicking, if she removes her hands everyone laughs at her, if she puts them back the boy groans, in the excitement the boy cums all over Ami's hands. Ami freaks out more and everyone keeps laughing, Usagi comes over and lowers her head on the boys member and gives it a few licks, then, encouraged by her friends, Ami does the same. Rei comes up behind Ami and moves her swim suit to get at her crotch and everyone else strips naked. And everyone starts giving everyone else oral. And at one point Minako pulls her hands from someone's crotch covered in juices and flashes a sticky V for victory. By the end of it the boy has cum three times and Usagi says that if he tells anyone she'll beat him up. She pulls up his pants and gives him a smack on the back to get him moving. He leaves in tears but Ami runs up to him and kisses him, everything is better after that. Overall it's a really neat doujinshi, all that was left were a few pages of authors rants.
Estimated Value: $24
It's somewhat rare and has excellent art, however Sailor moon doujinshi are definitely available in excess so this one is quite maxed out in terms of price. It's always nice to see something else from J.Sairo. Plus this one had too great stories and a decent page count, I wish I owned more of this series.