Doujinshi Prototype Project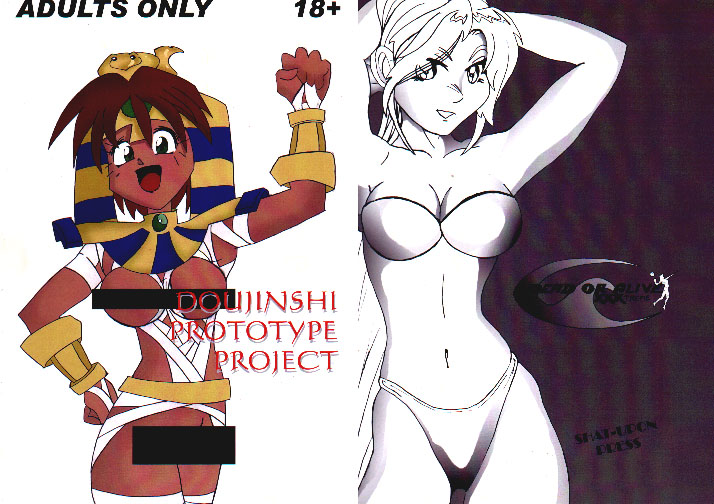 Circle: Shat Upon Press
Publication Date: Fall 2002
Rarity: *****
Series: Dead or Alive, Sailor Moon / Dragon Ball Z, Ranma 1/2, Tomb Raider, Witchblade, Eminem / Dr. Dre, Insane Clown Posse (Detroit based music group)
Couplings:
Dead or Alive : I don't know the series
Sailor Moon / Dragon Ball Z: Goku / Serena (Usagi)
Ranma 1/2: Ranma (hermaphrodite) / Shampoo
Tomb Raider / Witchblade : Laura Croft / Sarah
Eminem / Dr. Dre (ICP shows up and kills them both)
Page Count: 40
Cover: Glossy
Art Quality: Good
Description: This doujinshi begins with a disclaimer, it states that this doujinshi was printed in a quantity of less then 100 copies. The first story of the doujinshi involves the series Dead or Alive, but I don't know much about it. It doesn't use many screen tones. The next story is really short and involves a little sex scene between Sailor Moon and Goku where there is lots of man juice flinging around while they lament why they always end up together in hentai doujinshi. Third up is a Ranma 1/2 story. Shampoo offers a cure for Ranma if he takes her sexually. Somehow Ranma is now a hermaphrodite from the 'cure' (see above picture) very interesting seeing this in a comic especially with no censorship. Akane walks in an things go downhill from there for Ranma quickly. The final story involves Eminem (yes, the rapper) being sodimized very brutally by Dr. Dre (yes, that Dr. Dre). The sex is very explicit (see below picture for part of the scene). Then after they are done ICP comes in and murders the both of them. There are some neat little pictures in the authors rant at the end, little super deforms of Laura and Sarah and then another little comic involving the author talking to members of ICP. Still, it's odd being able to read everything.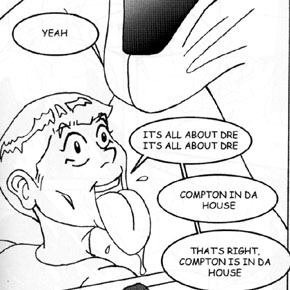 Estimated Value: $75
American doujinshi are very very rare. The art is pretty good, but best of all, you can read everything! Huzzah! I have never talked to anyone who has even herd of this doujinshi. Some time ago I put a copy of it up on eBay and got some e-mails from another person asking for the authors contact information in the doujinshi, they had rights to the character depicted on the cover and wanted to contact the person that made it. But there is no contact information in the doujinshi just the circle title, an online search brings up nothing for it. I've met the person that sells them, but he claims not to be the person that drew it. A copy I put up on eBay went for over $40 but if someone understood exactly what they were bidding on I'm sure it would fetch more. Overall a wonderful item to own.